Health Care Products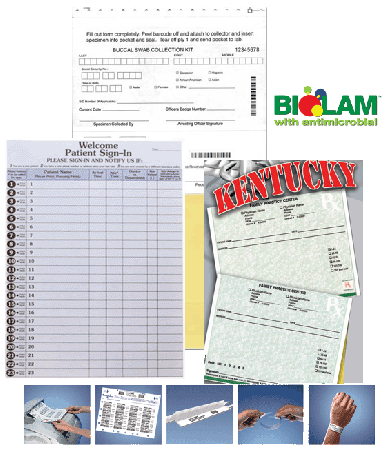 • Patient Sign In Forms
Now you can confidentially sign in your patients! Each patient completes the next available line and removes the number to the left of the name. They can then wait to be called by either name or number.
• Prescription Pads
- Delivery - 5 business days after order approval
- Competitive Pricing
- MIN 4 PAD ORDERS ACCEPTED!
- 1 part and 2 part prescription pads
- Security Features: Chemical protection paper, void pantograph, green background, Kentucky Security Prescription water mark on back, preprinted prescriber information, Rx thermochromic ink, microprinting in border line
- Approved in all 50 states
• HCFA, CMS & UB-92 Forms
• Laser Arm Bands
This product combines the medical chart labels with the patients ID bracelet into one 8.5" x 11" sheet. The wristband is self-laminating which allows it to be used in a wide variety of environments. We are a Lexmark International "converter list" registered vendor.
• DNA Envelopes
The design can include multiple envelopes, poly windows, numbering, bar coding, security seals, and bi-directional envelopes to protect against sample tampering.
• BioLam™
BioLam™ is a thermally applied laminating film enhanced with antimicrobial protection built into the structure. Antimicrobials are used to reduce the growth of bacteria and mold on surfaces.